New Mexico Municipal Fire Chiefs' Association Website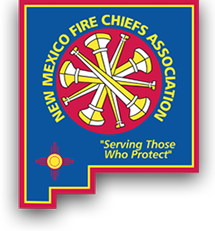 New Mexico Fire Chiefs Association Board of Directors
President (23)
James Salas, Chief Executive Fire Officer – Dexter
President Elect (23)
Terrance Lizardo, Fire Chief – Lovington
Director I (23)
Kevin Henson, Fire Chief – Angel Fire
Director II (22)
Craig Brashear, Fire Chief – San Jon
Director III (23)
Timothy "TJ" Cathey, Fire/EMS Chief – Portales
Director IV (22)
Mike Cherry, Deputy Fire Marshal – Quay County

Immediate Past President (23)
John Gabaldon, Fire Chief – Los Lunas
Thank you to all who attended the 2021 NM Fire Service Conference! It was great to see everyone and we hope to have provided you a valuable and informative program.
If there are any topics or speakers you would like to see at the 2022 Conference, please contact President Salas or any of the NMFCA Board Members.  Contact information may be obtained here – link will be live soon.
Chief Baker's 2019 handouts for Volunteer Firefighter Recruitment & Retention click here
NM Fire Chiefs Constitution & By-Laws
21-22 Fire Chiefs NMFCA Membership Application
Staff Liaison:   Jackie Portillo
Congratulations to our 2021 Louis Jones Memorial Scholarship Award Recipients!
Briette Mendoza
University of New Mexico
Carlsbad High School
Ethan Leo Rivera
Texas Tech University
Artesia High School
Brooklyn Romero
South Plains College
Turpin High School
The Louis Jones Memorial Scholarship was established in memory of the late Louis Jones, Fire Chief for the City of Roswell, New Mexico who died in the line of duty on March 26, 2002.  Louis was a twenty-year veteran of the department, and had been the Fire Chief for about one year.  This Scholarship is intended to honor his work and dedication to the New Mexico Fire Chiefs Association.